Delian Technology & Trading Beijing Co., Ltd. is a leading Chinese Dental Product Manufacturer under the well known DELIAN Brand and service program.
Delian has expanded its product program over the last years to an extensive assortment of Consumables, Disposables, Endodontics, Diversifed Materials and Instruments.
All Delian Brand Products, Instruments, Appliances and Preparations are developed, manufactured, and assembled based on state-of-the-art laboratory and production standards and international regulations. This guarantees that Delian Product Quality is subject to thorough monitoring. With intensive testing and a certifed quality management system, we ensure the ongoing and consequent adherence to the highest quality standards for Delian Brand Products.
Certifcations:
EN ISO 9001: 2015

EN ISO 13485: 2016/AC 2016

MD 93/42/EEC Annex V

CMDCAS recognized registrar – MD License Health Canada

US / FDA Registration

CFDA / China

Japan Ministry of Health Listed Manufacturer of MDE
Delian has officially inaugurated its new warehouse and logistics center in Beijing in 2016. The modern, 12.5 meter tall buildings offer in total 8000 square meters of floor space and stand on a 1.8 hectare property.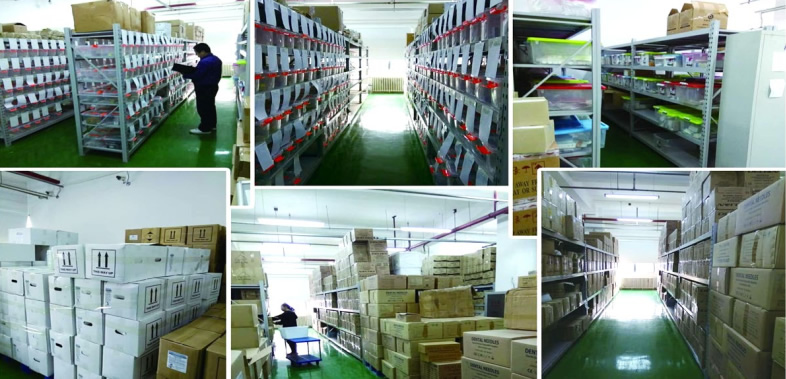 "We had long searched for a suitable property in this area to extend the logistic resources in case of load, order process and order quantity and that also cover our extensive assortment and meet increased requirements. We already have a highly modern Manufacturing and Bulk Warehouse Center in Shanghai and Dalian and now have extended the one in Beijing.
With Delian manufacturing facilities in China, and its international cooperations the worldwide business growth and technology transfer for the overall group of companies will be accelerated further on. For over years, we have built customer relationships that are focused on our corporate responsibility seriously by engaging in ethical, honest, and sustainable business practices. Our agility, customer dedication and common sense solutions drive our product and business values and are important part of our motivation and leadership.